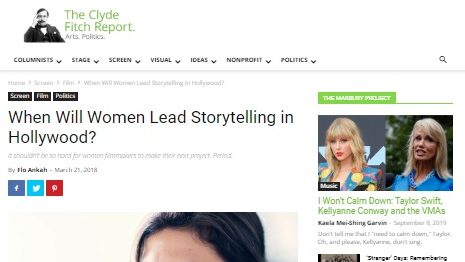 When Will Women Lead Storytelling in Hollywood?
by Flo Ankah
Full essay published on The Clyde Fitch Report
"If I may be so honored, to have all the female nominees in every category stand with me tonight," urged Frances McDormand during her powerful rally cry of an acceptance speech when she won for Best Actress on March 4.
Like millions of viewers watching the live telecast, I was deeply impacted by the humility shown by the women who rose; by women at the pinnacle of their careers still needing to reclaim basic respect, standing in solidarity in glittery gowns.
"Look around, ladies and gentleman," McDormand instructed us. "Because we all have stories to tell and projects we need to have financed. Don't talk to us about it at the parties tonight. Invite us into your office in a couple days — or you can come to ours, whichever suits you best — and we'll tell you all about them." (…)